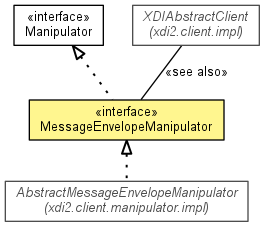 All Superinterfaces:

All Known Implementing Classes:

---




public interface 

MessageEnvelopeManipulator


extends Manipulator

This is used to manipulate message envelopes e.g. before sending them or after receiving them.

Author:

markus

See Also:

XDIAbstractClient, ManipulatingInterceptor
Method Detail

manipulate

void manipulate(MessageEnvelope messageEnvelope,
                ManipulationContext manipulationContext)
         throws Xdi2ClientException

Manipulate a message envelope.

Parameters:

messageEnvelope - The message envelope to manipulate.
manipulationContext - The current manipulation context.

Throws:
Copyright © 2017. All rights reserved.