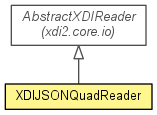 xdi2.core.io.readers.XDIJSONQuadReader
Method Detail

read

public Reader read(Graph graph,
                   Reader reader)
            throws IOException,
                   Xdi2ParseException

Reads an XDI graph from a character stream.

Parameters:

graph - A graph that will hold the read data.
reader - A character stream from which to read.

Returns:

The character stream.

Throws:
Copyright © 2017. All rights reserved.