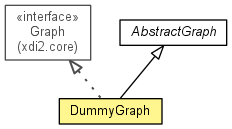 xdi2.core.impl.DummyGraph
Method Detail

getRootContextNode

public ContextNode getRootContextNode(boolean subgraph)

Description copied from interface: Graph

Gets the local root context node of this graph.

Specified by:

getRootContextNode in interface Graph

Parameters:

subgraph - This is simply a hint to the implementation whether child context nodes will subsequently be requested. Implementations may or may not actually use this parameter.

Returns:

The graph's local root context node.
Copyright © 2017. All rights reserved.